Recordings
Selected Piano Pieces by Webster Young
Played by the composer (with the exceptions of "Piero's Dance Lesson", played by Kendall Ross Bean,  and "Robin's Beloved", played by Edward Goldfarb). Much of Webster Young's piano music has received superlative reviews. "Piero's Dance Lesson" and "Robin's Beloved" are from the ballet "Album", about which one critic wrote, "Album should not be missed by anyone who appreciates ballet music at its best." The "Waltz after Granados" appeared in the film "Two for Ballet" and was subsequently published by Warner Brothers music.
All the tracks are studio recordings from the 1980's and 90's, analog. Each track is $2.50.
The Sun Also Rises
Libretto and music by Webster Young, based on the novel by Ernest Hemingway.
Ca 38min
Richard Aulden Clark, Conductor; with Lawrence Harris (tenor) as Jake Barnes, Luciana Lamonico (soprano) as Lady Brett Ashley, Patrick Watson (tenor) as Robert Cohn.
The music of Young's "The Sun Also Rises" was endorsed, in advance of its premiere, by important opera world figures, including Alfred Hubay of the Metropolitan Opera, Elaine Malbin of New York City Opera, and the late Chester Ludgin, baritone of the San Francisco and New York City Operas and a veteran of 14 American world premieres.
The Sun Also Rises
A recording of the full one-act opera, scored for chamber orchestra and singers.
Newspaper reviews were superlative:
The Long Island News, May 4, 2000, said:
"...a true opera in every sense of the word...
All the elements --music, drama, staging -- are outstanding
.full of interesting musical themes..."
The Rockville Centre Herald, May 25th, 2000, said:
"Young's opera remains true to the love interest of the book...
...a texture that works in tandem with the drama...
one walks away with the memory of Young's melodies."
As You Like It - In-concert Highlights
As You Like It - An Opera in Four Acts  was adapted directly from the play by Shakespeare. It contains some of Webster Young's best melodies, exemplified in the arias and duets included here.
All recordings are for voices with piano accompaniment by either Anderson Brenner or Webster Young.
Music from As You Like It
Under the Greenwood Tree - Michael Kavalhuna, baritone
audio clip
Arioso - Patrick Watson, tenor
audio clip
Duet No. 1 "Wear This for Me" - Patrick Watson, Lindsay Killian
audio clip
My Brothers in Exile - Michael Kavalhuna
audio clip
Duet No. 2 "Whither, Adam?" - Patrick Watson, Stephen Fredericks
audio clip
All the World's A Stage - Patrick Watson, tenor
audio clip
Thrice Crowned Queen of the Night - Lawrence Harris, tenor
audio clip
Duet No. 3 "Courtship" - L. Killian, P. Watson
audio clip
It Was a Lover and His Lass - Gary Ramsey, David Kellet
audio clip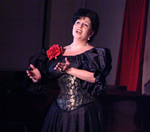 Rosa's Song
Orpheus - T. Kim & S. Maxwell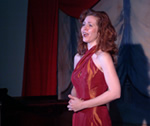 Break, Break, Break